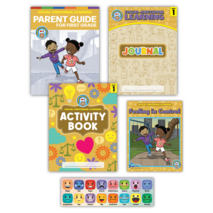 Social Emotional Learning Pack for First Grade
$24.99
SKU: BSE52101
1st and up
Backordered
This Mindfulness Matters series of products is centered around the five core competencies of social-emotional learning to help students build and strengthen their social-emotional learning skills.


Each pack includes:
(1) Leveled Reader. These leveled readers contain nonfiction and fiction content. Each book frontloads vocabulary and subject matter that is followed by a fictional story on the same topic.
(1) Parent Guide. These guides offer useful tools, meaningful advice, and creative activities to help families construct opportunities for social-emotional learning in the moments that make up everyday life.
(1) Activity Book. These books contain grade-appropriate information, activity sheets, and assessments to help students identify and understand the emotions they feel everyday.
(1) Journal. These journals provide a place for students to further develop and better understand their emotions by encouraging reflection through grade-level appropriate prompts and questions.
---
Related Products