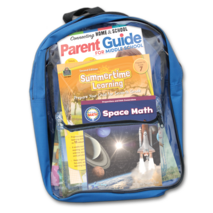 Preparing For Seventh Grade Backpack
$44.99
SKU: BSE51414
7th Grade
In Stock
Prevent summer learning loss and prepare students for the next grade with this lightweight, water-resistant backpack. The books and activities keep kids excited about learning and promote parental involvement.
Backpack Includes:
Summertime Learning: Preparing for 7th Grade*
Connecting Home and School: A Parent Guide
Space Guides: Voyage Through Space
Travel Through: Russia
Animal Lives: Tortoises and Turtles
*Summertime Learning is correlated to the Common Core State Standards.
---
Related Products